Love this idea for
the ceremony!
Not exactly sure how many months we've been "wedding planning" but there's just one thing we have come to a definitive conclusion about, our wedding colors. Pink, platinum and black. I'm a pink fan and my gf is a blue fan. We both decided that pink and blue may be a hard sell for a wedding. A baby shower, it could work. But not for our wedding at least. So, since Tee's second favorite color is black we went with that. Platinum is a neutral ground for both of us. I envision those colors working very well together. So I am excited!
In my conversation today, I told Tee that we could "minimize" the black in the color scheme. Oh, why did I say that? LOL. She's not a fan of that idea at all. She went on about how I'm trying to minimize her part in the wedding planning and that leave it to me it will be an all pink wedding. Smh. Women! Now, by no means am I seeking to minimize her contribution or ideas; I think that the 3 colors are beautiful together, but they all have a specific role to play. Too much black and it looks like a funeral, too much pink a baby or bridal shower. But Tee wasn't trying to hear it. So, we decided to start looking at inspiration to show us how the 3 colors will play together so we both are happy with the end result.
Compromise is a lot of work! But worth it. Here are few pictures I snagged online that have the pink/black/platinum theme: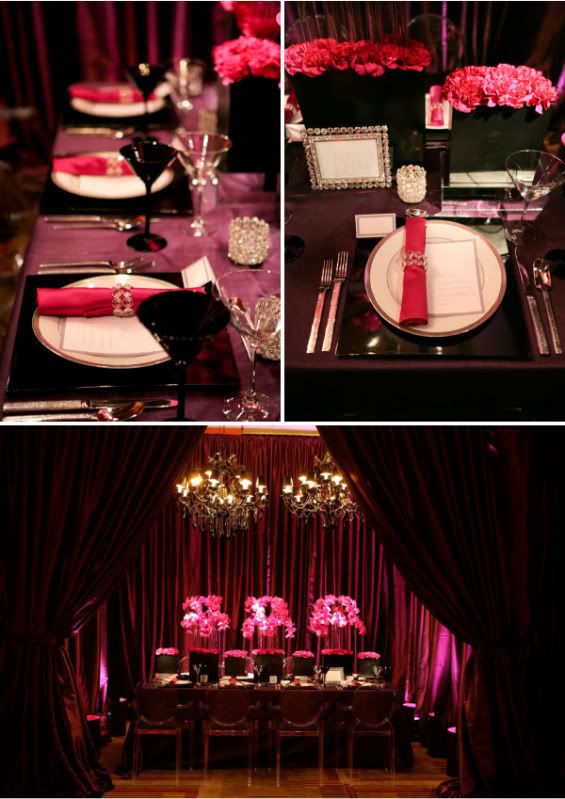 Pictures courtesy of weddingwire.com, partywarehouse.co.nz and projectwedding.com
We will be heading over to the
Dandelion Patch
on Saturday to get some ideas for invitations. The Dandelion Patch participated in the June 6th,
Say I Do! LGBT Wedding Exp
o we hosted so we will support their business and we invite you to do the same. They have two locations one in Reston, Va and the other in Vienna. If you are not nearby I believe you can order online as well.
Since we have a 2012 wedding, I'm thinking that we may start with a "save the date", doesn't make sense sending out invites this year or next. My resolve is to make this process fun and exciting. I hate to see when people get all stressed over wedding planning, I don't think that's fair to them or their partner. It's a celebration after all!
I'm looking forward to visiting the Dandelion Patch tomorrow!