ENTER OUR SPRING CUTEST COUPLES CONTEST!
Say I Do! is happy to announce our Cutest Couples Contest! We have partnered once again with 10,000 Couples. 10,000 Couples is an online magazine and resource with news and views for the LGBT community. We are looking for 5-8 couples to participate in our spring contest! Winner gets 2 tickets to Say I Do! Wedding and Anniversary Expo in DC and a gift card from the 10,000 couples gift shop! More prizes to be added soon.
And now for the contest....If you think you are a cute couple, you are invited to enter and you just may win!
This quarter we will select up to 8 couples to enter into our cutest couple contest. Cast your votes and the couple voted as cutest by the masses wins! It's all for fun and support of the LGBT community!
Our Spring contest is now open! We are accepting entries from LGBT couples from all over! To enter read our brief but necessary, contest rules:
Like us on Facebook. Like Say I Do! LGBT Wedding Expo, and 10,000 Couples on Facebook. And you may want to follow us on twitter too here.
Post on the Say I Do! wall that you are entering the Say I Do! and 10,000 Couples Cutest Couple contest.
Send us your picture, location and age to hello@pinkdotconcepts.com. Be sure to complete steps 1 and 2 first.
Hit the "easy" button and tell your friends and family to get ready to start voting. Couples who are entered will receive acknowledgment within 48 hours of completing the above steps!
We will accept entries from now until April 21st, voting will begin on Thursday, April 24th and continue until midnight EST on May 5th.
Note: Please send pictures of just the couple only, no adorable kids or pets can be in the picture :-)
Our winners will receive:
A gift card to the 10,000 Couples online shop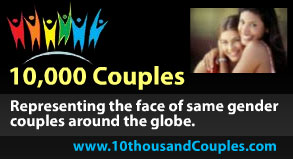 2 Complementary Tickets To
Say I Do! LGBT Wedding Expo on June 1st at the Hotel Palomar in Washington, DC!
More great prizes to be added!